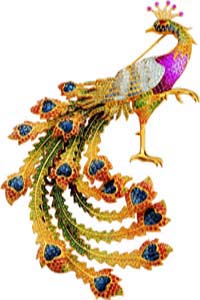 The Bangkok Gems and Jewelry Fair Asia's Premier Jewel Show
Dates: 42nd Bangkok Gems and Jewelry Fair: September 11 - 15, 2008
43rd Bangkok Gems and Jewelry Fair: February 25 - March 1, 2009
Opening hours:
10.00 a.m. – 6.00 p.m.
Venue:
Challenger, Impact Exhibition & Convention Center
99 Popular Road, Banmai Subdistrict, Pakkred District, Nonthaburi 11120, Thailand,
Tel: (662) 833 4455, Fax: (662) 833 4456, Website: http://www.impact.co.th
Show organizers:
Department of Export Promotion
22/77 Rachadapisek Road, Chatuchak, Bangkok 10900, Thailand,
Tel: (662) 511 6020-30 Fax: (662) 511 6008-10,
Website: http://www.thaitradefair.com, http://www.depthai.go.th
Thai Gem and Jewelry Traders Association
Jewelry Trade Center, 52ndFl., 919/616 Silom Road, Bangrak, Bangkok 10500 Thailand,
Tel: (662) 630 1390-97, Fax: (662) 630 1398-99,
E-mail: info@bangkokgemsfair.com , Website: http://www.bangkokgemsfair.com
About the show:
The Bangkok Gems and Jewelry Fair (BGJF) is one of Asia's premier jewel fairs and one of the top five gem and jewelry shows in the world. It is organized twice a year, in March and September, at the Impact Challenger, covering an area of 100,000 sqm.
More than 1,500 exhibitors from over 35 countries such as UK., Italy, Russia, USA, China, Taiwan, Hong Kong, Israel and etc. participate in each BGJF which attracts 35,000 international delegates and visitors.
Headlights:
A venue where Thailand, known as the world's capital for colored gemstones shows off its product diversity and outstanding craftsmanship. A place to see "Hot New Design," a display of more than 100 master pieces of most creative and original designs with striking beauty from leading jewelry houses in Thailand. A newly-created gallery launched at the 41st edition of BGJF, the Sala Design Pavilion, displaying something that is unusual, trendy, yet intriguing will set the tone for a new wave of jewelry fashion, inspiring both designers and manufacturers on how they can capitalize in on the emerging new market opportunities.
The e-Appointment facility, the unique B2B matchmaking facility which allows buyers and exhibitors to interact for win-win transactions available on www.ospgemsjewelry.com, still scheduled to accommodate the business matching well over 200 sessions throughout the duration of the fair and are available for appointments and business electronically all year round.
Exhibit profiles:
There are around 3,500 booths of products rank from Gold & diamond jewelry, Silver jewelry, Precious & Semi-Precious gemstones, Diamonds, Pearls, Machinery, Equipment & tools, Fashion jewelry, Rough & Synthetic Stones, Jewelry packaging & display, Services, Publications, Institution & laboratory, Others.
Admission:
Free of charge for business visitors who register at the registration desks or holders of invitation cards. A 100-baht entrant fee will be charged for each members of the general public.
The organisers reserve the right to refuse entry to minors below 15 years old and visitors who are not in proper business attire.
Credentials:
Please bring along your passport, photo ID and business cards as identify checks for entry permission.
On-site visitors' services:
BGJF offers access to the Congress for topical discussion, business center, touch-screen computerized fair guide, cyber cafe with high-speed internet connection and of free snacks and beverages, free shuttle bus service between the official hotels and the fairground throughout the trade days in addition to VIP limousine and ordinary taxi services.
www.impact.co.th
www.thaitradefair.com
www.depthai.go.th