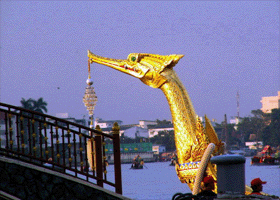 Bangkok: was founded in 1782 by the first monarch of the present Chakri dynasty. It is now the country's spiritual, cultural, diplomatic, commercial and educational hub. It covers an area of more than 1,500 square kilometres, and it is home to approximatlely ten million people or more than 10% of the country's population.
Over the last few decades, Thailand's capital city, Bangkok, has changed into a modern, exciting and sophisticated city. It offers to visitors not only the cosmopolitan amenities they would expect from other big cities, but also a unique treasure trove of cultural attractions. Thailand, in the heart of Southeast Asia, was never colonised and thus kept its unique culture and heritage intact. Bangkok offers visitors the opportunity to experience fascinating glimpse of Thailand's gentle culture amidst the bustle of a great and dynamic metropolis. This great city has had astounding success in combining the ancient and modern world.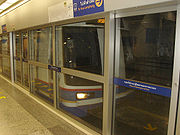 For tourists, Bangkok has a feast of attractions to offer. The city is dotted with 400 glittering Buddhist temples of great beauty and fascination, magnificent palaces, classical dance extravaganzas, numerous shopping centres and traditional ways of life, especially along the "Venice of the East" timeless canals and the Chao Phraya River of the "River of Kings" winding through the city. It is worth taking a trip along its waters before exploring further into different canals to take a glimpse of old Bangkok.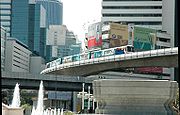 Bangkok has 50 districts or khet, which mark the administrative subdivisions under the authority of the Bangkok Metropolitan Administration. These are further subdivided into 154 khwaeng (ǧ), roughly equivalent to sub-districts tambon in the other provinces.
Districts
Demographics

The 2005 Statistics report by the BMA Data Center notes a registered population of 5,658,953. However, this figure does not take into account the many unregistered residents. Recently, Bangkok has experienced a large influx of foreign immigrants, long-term residents, and expatriates. Long-term foreign residents include 250,000 mainland Chinese, 85,000 Indians (most of whom are Sikh), of whom more than 80% have dual Thai citizenship, 30,000 Japanese (the largest Japanese population in Asia outside Japan), 25,000 Americans, 45,000 Europeans, 15,000 Taiwanese, 20,000 South Koreans, 6,000 Nigerians, 7,500 Australians, 12,000 people of Arabic speaking countries, 20,000 Malaysians, 4,000 Singaporeans, 5,000 Filipinos, and 800 New Zealanders.[citation needed] A vast majority of the population, 92%, is Buddhist. The rest are Muslim (6%), Christian (1%), Jewish (41 residents), Hindu/Sikh (0.6%), and others.[citation needed] There are some 400 Buddhist temples, 55 mosques, 10 churches, 2 Hindu Temples, 2 synagogues and 1 Sikh gurudwara in Bangkok.[citation needed]
| Date | Population |
| --- | --- |
| 1880 | 255,000 |
| 1910 | 365,000 |
| 1 April 1919 | 437,294 |
| 15 July 1929 | 713,384 |
| 23 May 1937 | 890,453 |
| 25 April 1947 | 1,178,881 |
| 25 April 1960 | 2,136,435 |

| Date | Population |
| --- | --- |
| 1 April 1970 | 3,077,361 |
| 1 April 1980 | 4,697,071 |
| 1 April 1990 | 5,882,411 |
| 1 April 2000 | 6,320,174 |
| 1 January 2005 | 6,642,566 |
| 1 July 2007 | 8,160,522 |
| 1 June 2008 | 9,865,024 |