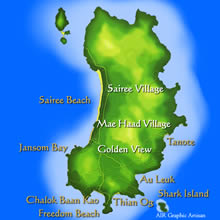 Koh Tao, little more than 21 km², is located about 70 km east of the coastline between Suratthani and Chumphon, in the Gulf of Thailand.
Koh Tao means Turtle Island, because in the past the waters in the area had been rich with sea turtles, nowadays they have mostly moved on to other breeding grounds.
Initially the island was not inhabited, there was only the occasional fisherman from the neighboring islands, looking for shelter in a storm or just taking a break before continuing his tiresome journey.
On June 18, 1899,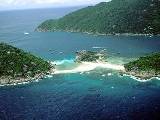 His Majesty the King Chulalongkorn (Rama V 1868-1910) visited Koh Tao and left as evidence his monogram on a huge boulder at Jor Por Ror Bay next to Sairee Beach. This place is worshipped even today and should be treated with respect.
From 1933 on the island was used as a political prison. In 1947, Khun A-Paiwong, prime minister at the time, pleaded and received a royal pardon for all prisoners on the island. Everybody was taken to the Suratthani shore and the "Turtle" was abandoned again. But
not for long. In the same year Khun Ueam and his twin brother Khun Oh reached Koh Tao from the neighboring Koh Phangan by trying out their traditional sail boat, for that time a quite long and dangerous journey. Even though the island was still under royal patronage, it didn't stop these pioneers claiming themselves a good piece of land on today's Sairee Beach. Having brought their families over, they began to cultivate and harvest the excellent soil. The first generation of today's community had settled!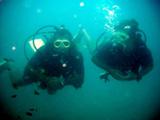 They lived a very simple and tough life harvesting coconuts, fishing and growing vegetables, which were also traded with Koh Phangan. Despite the difficulties in reaching the island, the population then grew steadily.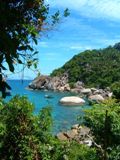 In the eighties the first travelers discovered the island paradise and their special "backpacker-network" quickly made it widely known and a popular destination. As a consequence, bigger, faster and safer boats were used to allow easier access to Koh Tao.<See accommodation in koh tao island>
During the past ten years the reputation of Turtle Island's natural beauty, especially its marine life and coral reefs, spread the world over and the number of paradise seekers increased rapidly.
It soon became one of the major dive sites in Thailand, attracting beginners and professionals alike. The local businesses expanded immediately to catch up with the needs of the new clientele.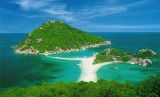 The island today, though still remaining an absolute paradise, caters for all tastes and budgets. <See accommodation in koh tao island>
If you are interested in more historical details and stories about the Turtle, go to visit Khun Orawan at Seashell Resort, Sairee. She is the great-grand daughter of Khun Ueam and will be more than glad to give you further information.