Hua Hin
250 kilometers south of Bangkok, Prachuab Khiri Khan - Chaam - Pranburi - Hua Hin, which literally means stone head in Thai, is the oldest beach resort of the country and is still very popular. Clean white sand, crystal clear water and a tranquil atmosphere has continued to attract tourists in search of peaceful and relaxing holidays.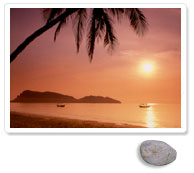 The town was originally known as Ban Samoe Rieng, or Ban Laem Hin (Stony Point Village). The construction of a railway station in the city as part of the Southern Railroad in the reign of King Rama VI resulted in making Hua Hin stand out from many quite fishing villages. In addition, the construction of a Summer Palace of King Rama VII totally transformed the village into a high-society resort town for royalty. Even today, the Royal Family continues to reside at the Palace for part of the year.
Hua Hin's consequence came with the opening of the Railway Hotel an elegant Victorian-style resort hotel, and also the countrys first standard golf course. A cluster of royal and high-society residences gradually became more visible resulting in the transformation of the whole village into the first seaside resort of the country, where visitors could enjoy swimming, fishing, and golfing in the country's first standard golf course.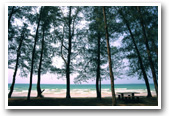 Today, Hua Hin is a well-established beach destination with word-class facilities coupled with a true sense of Thai hospitality. Despite its expansive growth and development as a luxurious destination, the splendor of Hua Hin remains intact. Remaining content in itself, Thailand's oldest seaside resort has never sought international recognition. It has continued to provide a peaceful and relaxed sanctuary in a picturesque environment that comes with a true sense of historical identity. <See accommodations>