Krabi travel:
Krabi Travel information for all visitors getting around it's very convenient by local taxi (Tuk Tuk). Some attractions like Hat Noppharat Thara, Susan Hoi, Ao Nang, Wat Tham Suea, Namtok Huai To, Ao luek, sra Morrakot etc.
How to get to Krabi :
Car:
From Bangkok by Car: Drive along Highway No. 4, passing Petchaburi, Prachuab Khirikhan, Chumporn, Ranong, and Phang Nga Provinces before reaching Krabi; a total distance of 946 kilometres. An alternate route is take Route 4 to Chumporn and turn into Highway No. 41 at Chumphon via LangSuan a district of Chumporn to Chaiya and Wieng Sah District of Surat Thani. Continue driving along Highway No. 4035, via Ao Luk district of Krabi, back onto Route no 4 , and down to Krabi Town. This shortcut is just 814 kilometres. From Phuket take Route 402 to Route 4 and pass Tambon Kok Kloy of Takua Tung District in Phang Nga, and enter Ao Luk district of Krabi, the total distance is 185 kilometres.
Bus:
From Bangkok by bus: Air-conditioned buses depart from Bangkok's South Bus Terminal to Krabi every day. The journey take 12 hours.
Departure times and fares are as follows:

First class (VIP) bus with 24 seats - 7:20 pm., 900 Baht.
First class bus with 40 seats - 7:00 pm. 586 Baht
Secound class bus - 7:30 am., 7:00 pm., 7:30 pm. and 9:00 pm., 478 Baht.
The schedule mentioned above may be changed. Check current information before booking at the Southern Bus Terminal, Tel: 0 2435 1199-200.
From: Phuket bus transport information Tel: 0 7621 1480
Rail:
There is no direct train from Bangkok to Krabi. Visitors may take a train from Bangkok Railway Station to Surat Thani and then ride a bus or a taxi to Krabi. For more information, call 1690, 0 2223 7010
Air:
Thai Airways call: 0 2280 0060, 0 2628 2000 (Bangkok Office) or 0 7563 6543 (Krabi Office) or visit www.thaiairways.com
P.B. Air call: 0 2261 0220-5 (Bangkok Office), 0 7569 1942 (Krabi Office) or visit www.pbair.com
Phuket Airlines call: 0 2679 8999 or visit www.phuketairlines.com

Tarnbohk Korani National Park:
Cover 60,000 square metres in Ao Luk Tai sub-district, one kilometre from Ao Luk Nua sub-district market intersection on the ao Luk Laem Sak Rd. The park is shady and forested by many different species of trees growing round the attractive pond after which the park is named, the Sah Bohk Korani. species influde the Wild Gar-denia, Asoka, and Apocynaceae. The Sah Bohk Korani flows through a wind passage in the mountain; at the north end of the pool is a footprint of the Buddha carved in wood near the little temple sacred to Jao Por Toh Yuan Toh Chong.

Tham Lod Neua-Tai:
Lie 2 kilometres distant from the district offices on the Ao Luk-Laem Sak Rd., near the watercourse of Klong Ta Prahng. There are two caves:
Tahm Lod Neua: This beautiful cave winds back on itself like an elbow.
Tahm Lod Tai: is a limestone tunnel longer and narrower than one of the same name in Phang Nga Bay. The cave mouth has stalactites and stalagmites and a boulder shaped like the quarter moon lying on its side. Visit this cave when the water is low by boarding a longtail boat at Bor Tor Pier; the journey take only 10 minutes.

Prah Cave:
Is the site of the Kao Prah Suhn Yah Tah Rahm Meditation Centre. It is about 2 kilometres distant from the district offices of Ao Luk. Inside the cave is a Buddhist effigy of great antiquity. This has two other statues of equal size flanking it placed at a later date, smaller wooden figures.

Pet Cave:
Is located 3 kilometres from the Ao Luk neua Market. The cave's front has Buddhist statues and the cave walls are of a stone that reflects light with the same dazzling beauty as diamond, hence the name; Pet is Thai for diamond. To visit the cave, procure a guide from the Tambohk Korani National Park and be sure to bring a flashlight or torch.
Chao Lay Cave:
Is west of Laem Sak Cape in a beautiful bay surrounding with limestone mountains. Inside are stalactites and stalagmites, as well as prehistoric paintings are thought to be somewhat more recent than those found in Pi hua Toh Cave. To visit the cave, take a regularly scheduled boat from the Span Pla of Fishing pier at Laem Sak Cape; travel time is about 15 minutes.
Pi Hua Toh or Hua Gah Lohk Cave:


This is a big cave with many grottos in a mountain surrounded by water and mangrove forests. Formerly a ghost with an impressively large skull resided in the cave, from which comes its name; Pi Hua Toh means bigheaded ghost. Also of interest are the many prehistoric coloured pictures of men, animals, on top of the other, are another feature of this cave. To visit Pi Hua Toh, board a ferry at Bor Tor Pier.
Song Pi Nong Cave or Poon Neua-Tai Cave:
Lies west of Pi Hua Toh cave. Inside were found human skeleton remains, pottery, earrings, and bronze bracelets.
Hua Gah Lohk Nai Cave or Buhn Mahk Cave:
Is only one hundred metres from Pi Hua Toh cave. It was discovered by a local villager named Buhn Mahk. It is a large, dark cave filled with stalactites and stalagmites. A large number of prehistoric pottery shards were found in layers on the cave wall outcropping near the entrance. These have distinctive line designs, are thicker, and coarser than those found elsewhere.
Toh Luang Cave:
In Ban Nohp, Klong Hin sub-district. This cave has three levels, each of which abounds in stalactites and stalagmites. Some resemble Buddhist monks, others look like legendary multi headed serpents, here stayed Jao Por Toh Luang, after whom the cave took its name.

Seua Noi Cave:
This cave is 2 kilometres distant from Hua Gah Lohk cave in Ban Bor Tor and is the site of a monastery and meditation centre, the front is formed by a broad outcropping in the hill. The area outside is speaceful and quiet; inside, the cave is beautiful. Many old pottery remains have been found here.
Seua Nok Cave or Tehp Nimit Cave:
Houses the Nimit Monastery, a tunnel below the cave lets sea water enter so the walls are thick with shells. Above is another large, dark cave, which has more strangely shaped stalactites and stalagmites than anywhere else. They shine like lights and are very beautiful.
Klong Chai Kao:
Is the Maya Bay in Koh Phi Phi. A longtail boat can be taken through the cave to the other sides in about five minutes.
Garos Island:
Is off the eastern tip of Laem Sak. Ancient paintings of men and animals are on the cliff walls facing Hin Bai Bay.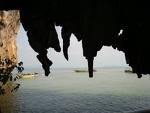 Talu Island:
The centre of this island has a 45 metres high hill, perforated by a 30 metres hole, thus its name; Talu means to pass through. The island is noted for the presence of swifts in large numbers that make the precious swallow bird's nest used in the chinese delicacy, Bird's Nest Soup.
Daeng Island:
Here is a fine sandy beach 25 metres long and a passage through the cliff 70 metres wide and 20 metres high.

Hong Island:
Comprise a number of large and small limestone Island. Hong Island also called Lao Billeh Island is the largest. These rugged island are sharped like half circles, forming bays in which there is both shallow and deep water coral. Perfect for diving and fishing. The best known Islands beside Hong Island are: lakkah; Lao Riem; Pakka; and Lao Lahding Islands. Boats from Ao Nang Beach; the trip take about one hour. <GO BACK>
Kao Kanab Nam:


These two hills, roughly 100 metes high, flank the Krabi River running between them to from a distanctive vista and the town's most prominent landmark. To visit them, take a longtail boat from Chao Fah pier; travel time is just 15 minutes. From there take stairs leading up to caves with stalactites and stalagmites. A large number of human skeletons have been found here. It's theorized that they are the remains off people who came and established a home at Kanab Nam, but were cut off by an inundation and quickly perished.
Shell Cemetery:


The shell graveyard at Ban Laem Poh was once a large fresh water swamp, home to a kind of snail. Over eons dating from the Tertiary Age, about 40 million years ago, these snails lived and died by the million, to the extent that the dead snails formed a layer upon which existed the living. Eventaully, weather changes precipitated the swamp's disappearance, but by then the layer of fossilized snails shells was forty centimeters of lignite below which is the subsoil. Beacause of geographic upheaval, this shelly limestone is now distributed in great broken sheets of impressive magnitude on the seashore at Laem Poh Cape.

Noppharat Thara Beach-Phi Phi Island National Park:
This lies in sub-district of Nong Talay, Sai Thai, Ao Nang, and Pak Nam with many attractions places to see. Among which are:
Nopparat Thara Beach:
This is 3 kilometres long sandy beach located 6 kilometres from Ao Nang. The beach paved with tiny seashells. When the tide ebbs the northern mountains almost disappears, so that the beach has no shore and stretches all the way to Koh Kao Pak Klong Island.
Ao Nang:<Click here> to see more information and accommodation in Ao Nang



This bay is 20 kilometres from town, beautiful and at the same time very strange to the eyes because of its limestone mountains. Its famous beachs include
Rai Lay <Click here> to see more Rai Lay information and accommodation), Tahm Pra Nang (where the tahm, or cave, is sacred to local villagers) and Nam Mao; none of these can be reached by road. However, boats leave regularly from the accessible part of Ao Nang to take visitors to them. There are also other Islands to visit as well; Kai Island, Tap Island, Mor Island, and Poda Island, where there are clean sandy beaches, clear water and schools of colourful fishes in abundance perfect for diving, snorkelling, or swimming. Boats to the Islands are boarded at Ao Nang.

Rai Lay Beach:
<Click here>
to see more Rai Lay information and accommodation
This beach is generally divided into two sections, east and west. West Rai Lay offers a broadsandy beach. Although it has less facilities to offer than Ao Nang, West Rai Lay is quieter and more peaceful.
Phi Phi Islands: <Click here> to see more Phi Phi Island information and accommodation.


The name is dirived from malay, and the original was Pulao Pi Ah Pi, where in pulao is the Malay word for island, and Pi, pronounced with only a half p sound, was very close in pronunciation to the English word be: the ah was eventually dropped,

so the name was said something like Bi Bi. Later the p was pronounced with a stronger aspiration and the name became the Pi Pi we known today (the h with which it is usually spelled is confusing and super-fluous). The name refers to the mangrove wood found there. Six Island are in the group, Phi Phi Don, Phi Phi Ley, Biddah Nok, Biddah Nai, Yung, and Pai, total area is about 35 square kilometres. they were incorporated in to the National Park in 1983. Some of the interesting places to visit include following below:

Yung Island: <Click herre> to see more information from Phi Phi Island.
Pai Island: <Click here> to see more information from Phi Phi island.
Phi Phi Don Island: <Click here> to see more information from Phi Phi Island.
Phi Phi Ley Island: <Click here> to see more information from Phi Phi Island.
Sadet Cave:
This cave, situated 7 kilometres from Krabi Town in Sai Thai sub-district, has lovely stalactites and stalagmites. The cave was visited in 1909 by King Rama VI before succeeding to the throne, and has been called by local people Tahm Sadet a Thai word meaning royal journey ever since.
Sah Gaew
8 natural springs large and small, the crystal clarity of which gives this place its name, Crystal springs. They are in Kao Tong sub-district on the Krabi-Nai Sah Rd., and each has a name; Nam Lod (water passing through), Cherng Kao (Valley), Jorakeh Kao (white crocodile), Nam Tip (Heavenly waters), Morakot (Emerald), Huhn Gaeng (Barking deer), and Noy (small)
Tham Suea Cave :


Lies in Ban Tahm Seua of Krabi Noy sub-district, is 9 kilometres north of Krabi Town. Tahm Seua mean "Tiger Cave" and the reason for this name is that an especially large tiger once lived there, also called Kao Gaew. the inside of cave feature tiger prints captured in stone, Outside, the forest has great trees hundreds of years old growing in a fold of Kao Kiriwong Mountain. Many other caves large and small are found in the mountains that surround the monastery. Among the best known are Khon Than (Heavenly Musian's), Lod (passing Through), Chahng Gaew (Crystal Elephant), Luhk Tanu (Arow), and Phra (Monk's). Aside from the monastery itself, this area has another aspect of interest especially to archaeologists. Many stone tools, pottery shards, and unfired clay holy images have been found, dating from prehistoric into historic times.
Huay Toh Waterfall:


This waterfall has eleven levels and springs from the Kao Panom Mountains in Tap Prik sub-district, on the Sri Trang Pracha-utit Rd., Each level contains behind its falls a pool of naturally clear, clean water 4-5 metres in diametre. The pools are named, and the best known are: Wang Tevada (Angel's), WangSohk (year's), and Wang Jahn (Platter). <GO BACK>
Jahm Island:


A large Muslim-populated Island forming its own sup-district in Krabi. The population engages mostly in fishing, rubber cultivation and the local craft of cloth weaving. This last has became so well-known that Krabi province is famous for its cloth. During the fine-weather months of dry season, passage to the Island can be made by taking a boat from Krabi Passenger Port in Krabi Town; when the weather is rainy, take a boat from Laem Kruad pier in Neua Klong District. Beach bungalows are available for overnight visitors.
Sri Bor Yah Island:


This Island lies not far from Jahm Island and is likewise populated by Muslims engaged in fishing and rubber planting. The atmosphere is quiet and pleasant, perfect for unhurried to holiday relaxation. Beach bungalows are available. During fine-weather months take the boat from Krabi passenger Port in Krabi Town; in rainy season, leave from Laem Kruad pier in neua Klong District. <GO BACK>
Kao Panom Benjah National Park:


Lies about 20 kilometres from Krabi Town on the Talad Gao-Ban Huay Toh Rd., The park covers an area of 50.12 square kilometres in part of three districts: Kao Panom, Muang, and Ao Luk. It is composed mainly of virgin forest growing amid craggy hills and valleys. There are a number of interesting places to visit.
Tahm Kao Peung:
5 caves with stalactites and stalagmites of difference shapes lying 3 kilometres distant from the National Park Offices. Some resemble stupas, others mushroom, a curtain, etc. The cave walls are sparkling white and dazzlingly beautiful. Tourist accommodations and services are available nearly; to make reservations, contact the Kao Panom Benja National Park office, Muang district, Krabi 81000
Klong Haeng Waterfall:
The source of this 500 metres tall waterfall in Mounts Tehp Benja, the tallest mountain in Krabi. It lies about 10 kilometres from Kao Panom district office.
Toh Hahn Waterfall:
This falls has its source in the Kao Panom Benja Mountains like Klong Heang Waterfall, but it is not at tall. It lies 16 kilometres from Kao Panom district offices.<GO BACK>
Wat Klong Tom Museum:


This contains stone tools, bronze implements, metal coins, pottery shards, ceramic and stone decorative arts, and coloured beads more than five-thousand years old dug from excavations in the area. The museum is on the ground of Klong Tom Temple in Klong Tom Tai sub-district, 1 kilometre distant from Klong Tom district office.
Hot Springs:
These are 12 kilometres from the Klong Tom district office in Klong Tom Neua sub-district. The area is forested and shady; the hot springs are hotter than others nearby.
Tung Tiao:


This one of only a few lowland forest in Southern Thailand. The nature trail begin about 800 metres before reaching the Kao Nor Ju Ji Park office within the Restricted Hunting Area of Kao Pra Bang Kram. It passes through both secondary forest, now in the process of development and growth and primary forest containing very large, ancient trees. the trail climbs into the limestone foothills, passing a pool of startling clearity and beauty. After that it enters an area open and specious before returning to the park office. Many animals and plant species in the lowland forest are extremely rare, some are close to extinction. Of particular note is the colourful Pitta Gurney bird, or Nohk Taew Laew Tong Dahm in Thai, which was long thought wiped out but has recently been redis-covered living in Tung Tiao.
Hin Perng Waterfall:
This three-levels fall drops from a hight of 800 metres and lies in Ban Hin Perng in Klong Pohn sub-district, 25 kilometres from the Klong Tom District office. The area is forested and shady.
Koh Silah:
On this Island are found many colourful and exotic species of bird. Koh Silah is 2 kilometres from Haht Bor Muang Beach. <GO BACK>
Lanta Island National Park: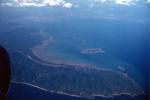 Covers 152 square metres of Lanta Islands. This Island froms the most southern district of Krabi Province. It was known long ago by its name in the Malay language, Pulao Satak, which means Long Beach Island. Later so many Thais, both Buddhist and muslim, came to live on the Island that there seemed to be million eyes, which is what some people think Lanta means in Thai. Others hold that the name is corruped from Javanese Lan Tas, and means a grilled fishes (which is built of wood with a square grill on top where the fish are set in a circle). Several important Islands are in the national park.
Lanta Yai Island:


Is where the district and National Park offices are located. Island geography is mountainous and rugged, especially near the southern tip; some beaches are gravelly, others have fine white sand. A clan of Chao Ley, or sea gypsies are residence on Koh Yao Yai, and they preserve many of their ancient customs and ceremonies; e.g., the setting of ceremonial boats adrift to bring good luck and prosperity on the sixth and eleventh months. This and other features of their lives are open to view. To visit the Island take a regularly scheduled ferry from Ban Hua Hin Pier in Koh Klang sub-district. Bor Muang Pier in Sai Kao sub-district; or Krabi Passenger port in Krabi Town.
More informatio and accommodation <Click here>
Taleng Beng Island:
This Island is in some ways a smaller version of Phi Phi Ley: Made of limestone-honeycombed with caves, inhabited by the same swifts whose nests are made into soup. Small beaches and caves appear when the tide ebbs.

Hah Island:
A group of five Islands, Hah Yai Island has a field of grass on its ridgeline. Another Island resembles in shape a sailboat; one has water that passes from one side to another beneath it. There is some coral in shallow waters.

Ngai Island:
A fine sandy beach and coral reefs rundown the east side of this Island. It is perfect for diving. Regular ferries and charter craft are available from Pak Meng Beach in Trang Province.

Rok Nai Island:
Is composed largely of formidable cliffs. On the east side are a fine sandy beach and coral gardens growing around sea rocks. On the north side are San Jao Bay and Tohng Bay.

Rok Nok island:
The southeast and southern ends of this Island have fine sand beaches and shallow water corals. Also not to be missed are Man Sai Bay and Talu Beach. Transport to the Island is via charter from eithfer Pak MengBeach in Trang Province of from Lanta Yai Island. There arre tents for rent, contact Lanta National Park Tel; 0 7562 9018-9
Hin Dang:
This submerged open water reef in the Andaman features a multiplicity of colourful corals to attract serious scuba divers.