Lanta Island, Hotels, Resort information direct booking guide:

Accommodation information guide for directly booking to Lanta Island, hotel, resorts, bungalow, room for rent with photo tours and beach maps in Phi Phi & Lanta island, Krabi, Thailand.
Welcome to Lanta Island:


Lanta island is a distract part of Krabi province, lanta island consists of two adjacents: Koh Lanta Yai and Lanta Noi.
Koh Lanta yai is full of tourist facilities while Koh Lanta Noi is the location of the district office. most of the beaches on Koh Lanta Yai lie in the west and offer awide range of accommodation. These beaches include Koh Kwang, Khlong dao, Pha Ae, Klong Khong Nin and Ba Kan Tiang, all can be reached byaroad. Sala Dan Pier in the north is where tour operators, shops and banks are situated. At the south end of the island is the headquarters of Moo Koh Lanta National Park which offers a camping ground and beautiful views. Travelling to the east of the island, visitors can see an old community of Koh Lanta and sea gypsy villages. Some guesthouses are available. motorbikes can be rented at Sala Dan to explore the island. The peak season lasts from November to April.

How to get to Koh Lanta:
1. Take air-conditioned vans which leave Krabi town at 11:00 am., 1:00 pm. and 4:00 pm. every day. The fare is 150 baht per person. The van boards a motor-raft at Ban Hua Hin and then another raft at Koh Lanta noi. The trip takes 2 hours. On return, the vans departs from Sala Dan (on Koh Lanta Yai) at 7:00 am. and 12:00 noon. For more information call Krabi Lanta Tour at Tel: 0 7562 2792
2. Boats from Chao Fah Pier (available from November to May) leave at 10:00 am. and 1:00 pm. The trip take 2 hours. Call Chao Fah pier Tel: 0 7563 0470-2
Travel agents on Koh Lanta sells tickets to many destinations such Krabi, Phuket, Koh Phi Phi, Koh Ngai and Koh Rok. Departure time and fares are as following: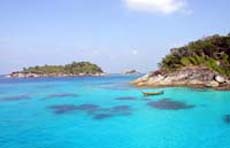 Lanta - Phi Phi : 8:00 am. and 1:00 pm., 250 baht
Lanta - Krabi : 8:00 am. and 1:00 pm., 250 baht
Lanta - Phi Phi - Phuket : 9:00 am. and 2:30 pm., 300 baht
Lanta - Phi Phi - Krabi : 9:00 am. and 1:00 pm.
Royal fern co., Ltd. operates boat service to Krabi via Koh Cham (or Koh Jum) and Koh Ngai, Koh Rok and Koh Kradan. For more information, call 0 7568 4163 or 0 1719 4811.